DEAR DR. THOMPSON
Felony Murder, Hunter S. Thompson and the Last Gonzo Campaign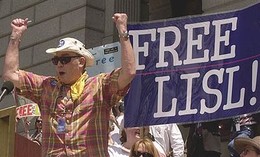 "Most of my memos get lost in the ether and there was no telling what would happen, but I had some small inkling that sending a memo to Hunter about Lisl was not all that dissimilar to sending a memo to Truman Capote about a murder in Kansas.
The difference here was that I had Hunter's fax number."
Sometimes the only thing it takes to change a life is a letter.
While serving a life sentence at Colorado Women's Correctional Facility in Cañon City, twenty-five-year-old Lisl Auman wrote an off-chance letter to legendary Gonzo journalist Hunter S. Thompson complaining that his books were not available in the prison library.
Lisl's tragic journey began in 1997 when she took a ride in the Thunder Chicken — a freshly stolen red Trans Am — with skinhead Matthaeus Jaehnig. Their brief and devastating journey resulted in the death of Denver Police Officer Bruce VanderJagt. Jaehnig shot VanderJagt then turned the gun on himself — all while Auman was already in handcuffs in a police cruiser. Two officers later changed their testimony and said they saw Auman hand Jaehnig the murder weapon and she was sentenced to life without parole.
After reading Lisl's letter, Thompson rallied to action and began a movement to free Lisl.
Upon hearing of Thompson's efforts, communications strategist Matthew L. Moseley wrote his own memo to Thompson, outlining how to organize a grassroots campaign to free Lisl Auman from prison while taking on the Draconian felony murder law. Dear Dr. Thompson chronicles Lisl's epic struggles and takes you inside the last — and perhaps greatest — Gonzo crusade. It is a cautionary tale about death, destruction, lies, justice, the power of media and ultimately, forgiveness
"Today it's Lisl Auman, but tomorrow it could be you, me, us."
Hunter S. Thompson
What people are saying...
"It is strange how fact can be stranger than fiction. If you put Lisl's case into a script, nobody, but nobody would believe things worked out the way they did. Lisl is a victim and every damn one of us knows he who fears the flashing lights in the rearview mirror are also victims."
Benicio Del Toro, actor
"Hunter Thompson fought tirelessly for Lisl Auman, on the theory that by doing so he was protecting the rights of all of us. Matthew Moseley provides a colorful and well-researched chronicle of the crusade, which would make Hunter proud."
Walter Isaacson, President of the Aspen Institute, former editor of Time and CEO of CNN; biographer of Albert Einstein, Benjamin Franklin and Henry Kissinger
"During the years before Hunter S Thompson's death, the Gonzo legend befriended communications strategist, Matthew Moseley. Together they crusaded to have a potentially innocent woman released from prison. Dear Dr. Thompson expertly tells the dramatic story of the Free Lisl campaign which rocked Colorado."
Douglas Brinkley, Author, Presidential Historian and literary executor for estate of Hunter Thompson
"I was greatly disturbed by the Lisl Auman case and how she became the fall girl for the rash of skinhead violence occurring at the time. Matt Moseley's book describes in horrifying detail how individual citizens can get ground up in the legal system — and why it is important to correct those injustices. I was proud to have stood with Hunter Thompson in his last — and maybe most important — crusade."
Morris Dees, Southern Poverty Law Center
"Matthew Moseley has written a book where "Lawyers, Guns and Money" became more than just a song — it became the touchstone for the campaign to free Lisl Auman. Dear Dr. Thompson tells the story of how Hunter Thompson inspired my late husband , Warren Zevon, to leap into the first and only political activism of his life. Moseley's book is a rock and roll report of one of Warren Zevon's — and Hunter Thompson's — proudest legacies."
Crystal Zevon, Author of I'll Sleep When I'm Dead: The Dirty Life and Times of Warren Zevon
"FANTASTIC!! As fine as anything I have read in years. Gripping, thorough and rather than demonizing the police or even the perpetrator, it is a real life drama that exceeds anything that most fictional thrillers ever portray."
David Amram, instrumentalist for Jack Kerouac and Composer-in-residence at the New York Philharmonic

Download Press Release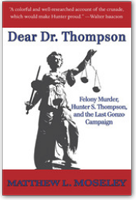 Buy the book
DEAR DR. THOMPSON
Felony Murder, Hunter S. Thompson and
the Last Gonzo Campaign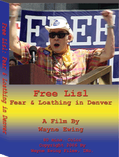 Buy the documentary about Lisl Auman by Wayne Ewing
FREE LISL: FEAR AND LOATHING IN DENVER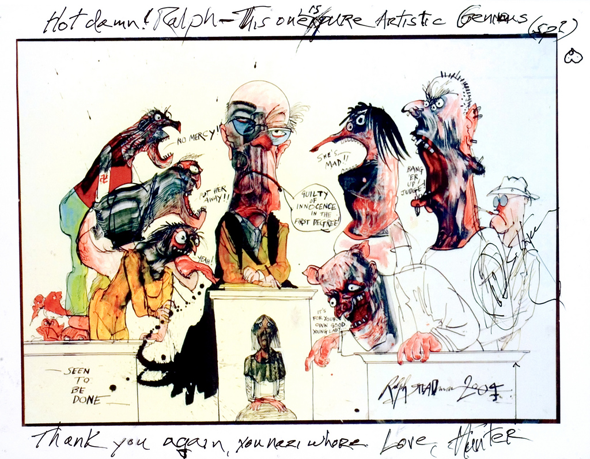 Artist Ralph Steadman's interpretation of Lisl's trial, with a note from Hunter Thompson to the author Matthew Moseley in the margin.