Mental Conditioning for Adventure Swimming.and Life
By Matthew L. Moseley | Naropa U
January 27, 2016
By Matthew L. Moseley
I first met ex-fighter pilot and Naropa graduate Mark Williams on a political campaign years ago where he was our foreign affairs advisor. Mark now runs VUMind and is a much sought after mental conditioning and meditation consultant. For professional development, Mark and I began working together in the summer of 2012.
Not long after, I hurt my leg in Moab and had 17 screws and four plates holding my ankle together. Suddenly mental conditioning took on a new purpose and importance in those hard times after surgery. It was during the recovery when I conceived of doing three world record swims as a goal and a way to bring my body back from convalescence.
In a period of thirteen months last year, I completed three swims that had never been done before: 25 miles across Lake Pontchartrain in New Orleans; from the island of Culebra to Puerto Rico for 24.5 miles and down the Colorado River through Canyonlands National Park for 47.5 miles. All the swims were nonstop with no assistance or floatation and followed World Open Water Swimming Association guidelines.
These adventures took years of physical training, putting together an experienced team and the right coach. However, mental conditioning became a critical part of my training and was a key element in the swims when the going got tough.
What do I mean by mental conditioning? The way Mark explained it to me, this wasn't going to be sitting back on cushions blissing out. He gave me "sets for the mind" in the same way an athlete might do sets in a gym. These mind sets were no less difficult or exhausting.
Think of the mind as a giant mag light. Sitting in a chair with a straight back and palms down, bring the focus of the mag light in tight as a laser. Focus all energy and attention, coming through the breath, on one single point on the floor about eight feet away. All distractions and thoughts begin to fade, and when the mind invariably wanders, recognizing and simply re-turning to the practice.
Now bring the mag light as wide as possible. The eyes gaze up to a single point with hyperawareness of everything around including sound, taste, smell, touch and sight. Aware, but still intently focused on the breath.
Now, practice going between the two. Bring the mag light of the mind tight and then wide with about three sets of 20-30 breaths each. This exercise is ultimately about harnessing awareness—our strongest and most important muscle.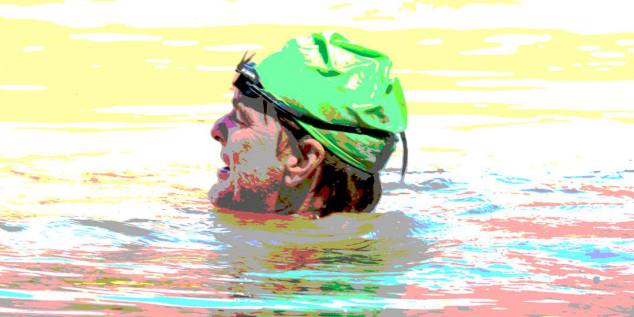 In this state of heightened awareness, our practice would move to detailed visualizations of the swims: waking up, feeling my toes in the water, feedings every 25 minutes, my stroke and the joy of the finish. We didn't always visualize bright sunny days when everything went correctly. We thought of various scenarios when everything went horribly wrong: stormy weather, choppy waters, vomiting and getting attacked by an alligator.
And the going did tough, especially on Lake Pontchartrain. After swimming for 13.5 hours, I began to get disoriented and very fatigued. I started thinking of a laser from my heart extending into the water. I was riding the breath and blocking out the distractions of pain and severe nausea. Just focus on the breath and each stroke. Be present in the moment and think of nothing else. We had visualized and trained for this moment and I was ready.
I still vividly remember those clarion moments where my mind transcended my body. As long as I intently concentrated on my breath and stroke, everything faded. I repeated the mantra from my coach Randy Soler: Less than before. I was driving the chariot of my awareness.
These techniques can be applied to every aspect of life and not just endurance sports: Dealing with difficult people, remaining calm in stressful situations and making better decisions.
A person can train their body to swim for 15 hours straight. But after a while, it becomes much more than a physical endeavor, it becomes a mental game. In adventure sports, as in life, success isn't just training the body, the most critical element could be in training the mind.
Find out more on the ability to train and change your brain and aboutMark Williams' new program on Gaia TV.
For more from Matt Moseley, join us tomorrow night in Boulder (1/28/16) for a special evening inspired by water with David Amram, Matt Moseley and American Rivers. The event will be a celebration of recent efforts in water protection and conservation as well as an opportunity to discuss how to to improve the health and vitality of water in Colorado and beyond.

Matthew Moseley is a principal at InterMountain Public Affairs and is the author of "Dear Dr. Thompson: Felony Murder, Hunter S. Thompson and the Last Gonzo Campaign."
READ THE FULL STORY AT: Mental Conditioning for Adventure Swimming.and Life
---
Why I swam through Canyonlands: Fish can't live where people can't swim
By Matthew L. Moseley | The Denver Post | High Country News
October 30, 2015
Under a blue moon at the confluence of the Green and Colorado rivers, I was exhausted but exhilarated: I'd just completed the first swim of the Colorado River through Utah's Canyonlands, starting at Moab and ending at this merging of two rivers, a distance of 47.5 miles. Time: 13 hours and 56 minutes.
The swim was an attempt to raise awareness about the plight of the Colorado River and the important work of the nonprofit American Rivers, which advocates for free-flowing rivers everywhere.
The swim wasn't easy, and after about five hours, I was cold, in water that was about 68 degrees. The support crew in their touring sea kayaks didn't have it easy, either; their main job was keeping me in the fastest currents, finding the channel that is a river within a river. The Colorado River can be wide and shallow in spots, and I hit a few rocks and branches along the way. Sometimes I had to crawl through the sand and mud on my belly.
Even then, I never stopped. Our team followed English Channel Rules/World Open Water Swimming guidelines: No flotation, no wetsuit, no touching the boat or another person, and no stopping. Besides physical fitness - and I trained for this for months -- nutrition is said to be one of the most important elements in success. I had to have the engine, but my engine wouldn't function without enough fuel, so every 25 minutes I ate from an assortment of gels, energy bars, scrambled eggs, bananas, burritos and protein drinks, all administered by my coach from a feeding stick - as if he were feeding an animal at a zoo.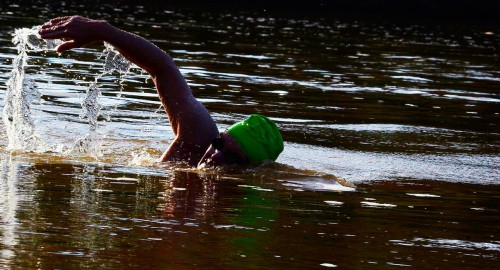 Moseley swims through the Colorado River in Canyonlands.
The five-member support team had to continuously paddle for 14 hours, without even getting a stop for a bathroom break. (Think bailing buckets.) Though we had planned to swim at night, I crawled up onto the beach at the confluence just as the sun was setting. Night swimming was too dangerous.
The day was magical: I swam through the millions of years burnt into the canyons, the floods and droughts, sunsets and full moons, the secrets of the Anasazi and the Barrier People before them. I thought no matter how hard the swim would prove for me, it would never come close to the difficulty that the Colorado River experiences every day. This majestic river, source of water for millions of people, has been dammed and diverted until it chokes on itself, which is why it is now the country's most endangered, according to American Rivers.
My favorite part of swimming, and the real reason I swim, is the connection I feel with the water, almost as if I'm a fish. Marathon swimming might seem like a crazy idea to some people, but it is also a good way to draw attention to some critical water issues. How we treat our water says a lot about what we value. For me, the swim through Canyonlands was part of a series of three world-record adventure swims in 13 months. They included a lake, an ocean and a river - the Colorado.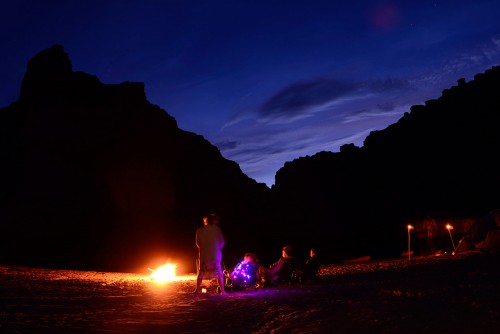 Moseley's crew camps at the confluence of the Colorado and Green rivers.
In June 2014, I dodged alligators and bullsharks to swim 25 miles across Lake Pontchartrain in New Orleans in just under 15 hours. For decades, the lake was contaminated and unswimmable. Finally, the Lake Pontchartrain Basin Foundation cleaned it up. In late May, I swam 24 miles from the island of Culebra to Puerto Rico for the Scuba Dogs Society, a group that works to protect coral reefs.
People can't swim where fish can't live. The quality of water is the key to the whole planetary system and may very well be the defining issue of our time. We have a responsibility as a nation to set a better example and do a better job of protecting the lifeblood of the planet. The abiding lesson I have learned from swimming is simple: As the rivers, lakes and oceans go - so do we. We are the water.
Matthew Moseley is a contributor to Writers on the Range, a column service of High Country News. He is a communications strategist and writer in Boulder, Colorado.
READ THE FULL STORY AT: Why I swam through Canyonlands: Fish can't live where people can't swim
---
Scotland Rocks the Vote - and gives the world a lesson in democracy
Daily Camera
By Matthew L. Moseley
ISLE OF BUTE, SCOTLAND - While the Scottish vote for independence failed by a margin of 45-55 percent, it was an elegant exercise in constitutional democracy for all of the world to witness.
The ballot was just six simple words: "Shall Scotland be an independent country?" Even though everyone I spoke with agreed that it was the most important decision the country would ever make, the Scots were civil, engaged and very thoughtful.
Nearly 4.3 million people registered to vote, including 109,533 16-17 year olds - 95.7 percent of all eligible voters. In the end 85 percent cast ballots. Talk about rocking the vote. While Americans love to trumpet our participatory democracy, Scotland shows just how disengaged we really are.
---
WE ARE THE WATER
The Strange Journey of Swimming Across Lake Pontchartrain
By Matthew L. Moseley
The Clouds were opening just after midnight when I climbed into the dark waters of Lake Pontchartrain on the North Shore at Bayou Castine in Mandeville, Louisiana. My stomach was in knots because I knew the sky wouldn't be clear for long as we headed for New Orleans.
I was swimming the first half of what would become a 26.1 mile crossing to raise money to rebuild the lighthouse and to raise awareness about the water quality and ecological habitat for Lake Pontchartrain Basin Foundation (LPBF)...

Download the rest of this article by clicking on the pdf image.
---
Radical Self-Audio: The Art of Music at Burning Man
By Matthew L. Moseley
September 15, 2010
Seventy DJs from 14 countries decamped in 21 teepees with a nearly 24-hour open bar and food. They played in two massive domes with large elevated DJ booths, dancing cages and lasers. Between the two domes sits a three-story tall by six-story wide triple-layer lumen screen with the DJ booth in the middle called the Tower of Babel. This is Root Society, just one music camp at Burning Man, and it just might rock your world.
Photos by: Darrin Harris Frisby, See more original photos specific for this article at www.pbase.com/jacktors/burningmanbookreview

Download the rest of this article by clicking on the pdf image.
---
BOULDER WEEKLY: How I got to burning man
By Matthew L. Moseley
About this time last year I was sweating buckets, training for the biggest adventure of my life. It started innocently enough over cocktails at Jax restaurant in Boulder in the spring of 2009 with talk about going to the Burning Man festival in Nevada. If we were going, we couldn´t just drive, like normal people. We reckoned we should tack a big adventure on the front end.
About two margaritas later, Bud Thompson suggested we bike 142 miles on Kokopelli's Trail from Grand Junction to Moab, swim on the Colorado River for 18 miles from Moab to Potash Point, and then run 24 miles rim-to-rim in the Grand Canyon. Bud is prone to crazy talk like this, and I dismissed him as mad, which he truly is, but in a good way.
---
Moseley: Rove's special legacy in Colorado
Daily Camera
Saturday, August 25, 2007
As Karl Rove makes his farewell rounds as President's Bush most pivotal and controversial adviser, it is worth remembering the special stamp he left on Colorado. In 2003, under the leadership of Senate President John Andrews, the Colorado General Assembly launched an assault to redraw Colorado congressional districts so that by concentrating Democrats in Denver and Boulder, five out of seven districts would be securely in Republican hands for generations. The "Midnight Gerrymander," the Denver Post's Bob Ewegen would label it. This was a plan hatched by Karl Rove and Tom DeLay years before as part of the effort to create a "durable Republican majority." Colorado would be the test case, and then Texas would come a year later.
---
SPEAKOUT: Let's keep Boulder swinging
Rocky Mountain News
Friday, July 20, 2007
On July 3, Spencer Hawkins, a Boulder swimming coach and musician, was perched on a ledge above the deepest swimming hole on Boulder Creek. Others lined up for their turn behind him.
He pulled a rope back and took off sailing into the air and into the cool waters of the creek for the last time. The Boulder Parks and Recreation Department then swiftly cut it down.
Has Boulder lost its swing?
Apparently so.
People have been rope swinging on Boulder Creek for decades as rite of summer, and cutting it down is another act in a city that is slowly and quietly crushing activities it cannot regulate or control.
---
Young Americans volunteer, but don't vote
Business Network
April 14, 1999
There is a growing chasm between civic and political involvement of 18- to 24-year-olds.
Youth turnout in the '98 elections was the lowest ever. According to exit polls, only 12.2 percent of 18- to 24-year-olds voted in recent midterm elections compared with 19 percent in 1994, a decline of nearly 40 percent. Yet at the same time that America's youth are not voting, they are out in the streets making a difference in their communities and volunteering in record numbers. UCLA's 1997 annual survey of college freshmen found that 73 percent of incoming freshmen had volunteered in the last year.
---
Sex frenzies, and the Super Bowl
By Hunter S. Thompson
My friend Matt Moseley called from Athens and said he was working as a press officer for the U.S. weightlifting team in a secret location called the USA House, less than 900 meters from Acropolis.
"We are right in the middle of town," he said, "but only the cops know we're here. We fly no flag."
"What is the wildest place in Athens?" I asked him. "Where is the weird stuff happening?"
I knew it was a dangerous question for him — considering his happy family back in Boulder — But I asked him anyway.
"I need to know this," I snarled. "The editors of 'Playboy' are pushing me for gossip about orgies."
"Orgies?" he asked. "Which ones are they talking about? We have group sex frenzies following almost every event, even the ones we lose. The hottest place in town is probably the Bulgaria House. It rocks 24 hours a day. I love the place. One night last week, I had two of my athletes disappear completely after they went to the Bulgaria House. We can't find a trace of them."
"Don't worry," I said. "They will turn up in a few days. But they won't be of any use to you."
Which is true, but it is not a pretty story so we won't get into it now — except to say that I didn't need a year with the Oakland Raiders to finally grasp the true nature of amphetamine addiction. That gig goes all the way back to Adolf Hitler.
World War II would never have happened if Hitler had never discovered speed. Once he learned how to stay wide awake and utterly dominant for 99 or 100 straight hours at a stretch, his enemies knew they were doomed.
Ah, memories, memories. Where are the snows of yesteryear? Ou sont les neiges d'antan.
Which brings us, at last, to the more solveable horrors of our time, these first queer years of our post-American century.
Whoops. We are wandering. Let us focus once again on what is real in this life, like the Super Bowl — which looks to be like the Colts and the Eagles. Why not? They are two of the speediest teams in the league, and speed will be the deciding factor this year.
"You can teach a kid everything else in the game," said Al Davis on one wet afternoon in Oakland when he was bitching about Ken Stabler and "Fast Freddie" Biletnikoff, both famously slow on foot. "But you can't teach speed."
Al was weird in those days, and he still is. But the Oakland Raiders will suck this year, and so will the Denver Broncos. They both suffer from a lack of team speed, and they both have dysfunctional quarterbacks. No playoffs for these poor bastards. They will struggle. Do not bet on them.
The real NFL season will start on a Thursday night, Sept. 9, somewhere on the outskirts of Boston, when the defending champion Patriots will be strongly favored to once again lay a crippling loss on the Colts, who will once again be three-or-four point underdogs.
Only a fool would bet against New England at home in September. They are riding a 15-game winning streak, and they see no reason to lose any games this year. Bill Belichick has built his perfect winning machine.
Ho ho. Don't bet on it. There is something out of whack with New England, and their winning streak will end on Sept. 9. The Patriots look unbeatable, on paper; but on the field, they look weak and disorganized. They will lose, somehow, in Indianapolis. That is all ye know, and all ye need to know.
Mahalo.
---
For Reporter Scum, Olympics Is Scrum
Scribes Battle for Position in The Games of Packed Journalism
By Peter Carlson
Washington Post Staff Writer
Wednesday, August 25, 2004; Page C01
ATHENS, Aug. 24
Outside, under the bright lights of the Olympic Stadium, the crowd roars as runners approach the starting blocks for the men's 400-meter race. But down here in the bowels of the stadium, a far more brutal competition is already underway -- a no-holds-barred body contact sport that is far too gruesome to be shown on TV.
This is the "mixed zone," an airless subterranean concrete walkway where print reporters line up along a metal fence for a chance to interview athletes as they walk from the track to the room where they must produce a urine sample for drug tests. Space is limited along the fence, and hundreds of sweat-soaked reporters from around the world jostle, shove, elbow and stomp each other, fighting to seize and hold a position where they might possibly hear an athlete stammer out a cliche about God or mom or an injured hamstring.
The mixed zone combines the worst aspects of a rugby scrum, a mosh pit and the New York subway at rush hour. It is a place that confirms all the worst stereotypes about reporters -- they are pushy, they are obnoxious and their personal hygiene leaves a lot to be desired, at least here.
In the mixed zone, the unruly battle the unwashed for a chance to hear the inarticulate utter the inaudible.
"It's nasty, it's smelly, it's stinky, it's rude, it's vile and a lot of the stuff that goes on here would get you arrested out on the street," says Bob Padecky, a veteran Olympics reporter for California's Santa Rosa Press Democrat. "Half the people in here, if they've ever showered, it's been a while."
Padecky's on a roll. He's just emerged from a cacophonous, malodorous mob in the mixed zone and he's eager to vent.
"You feel like you're getting battered by hurricane-force winds that have just blown through a garbage dump," he says. "You smell something bad and you're pretty sure it's not you. But you figure you should take a better shower tomorrow because you're picking up a whiff of Belarus."
Actually, mixed zones are not all bad all the time. Sometimes, they can be downright inspiring. You watch as athletes from three nations stand side by side giving interviews in three languages, and your heart swells with pride at the brotherhood of man. But then some lout with a press pass slams an elbow into your gut to get to a guy who finished seventh in a semifinal heat, and you want to wipe out his entire nation with a nuclear strike.
All Olympic events have mixed zones and most, if truth be told, are fairly peaceful. Go to a preliminary event of an obscure sport and you can engage in long, civilized discourse with an athlete. But at the major events -- swimming, gymnastics, track and field -- mixed zones are mob scenes.
The mixed zone at the recently concluded swimming competition carried an added whiff of danger: The combination of metal fences, electrical cables and pool water in close proximity caused much speculation that the entire aquatic press corps could suddenly be electrocuted with a boom that might blow out the Athens power grid.
But that didn't happen, and those reporters have lived to see another day, another mixed zone -- like this one here in the hot underbelly of the stadium, where a scrum of scribes battles to get close enough to hear Allyson Felix, the American who just won a preliminary 200-meter race, reveal the philosophical underpinning of the U.S. track team:
"We're just trying to do the best we can" Squashed against the fence in front of Felix is Matt Moseley, who is taking a beating as he holds two tape recorders up to Felix's mouth. Moseley is a volunteer working for the U.S. Olympic Committee web site. His job is simple but tough: He's supposed to hang on the fence at the start of the mixed zone and get a quote from every American athlete who passes by. Then he hands that tape recorder to a colleague, who runs off to type the quote into the team Web site, while Moseley does the same thing with another athlete, another tape recorder.
"Last night, I was crushed for 5 1/2 hours, but I didn't leave this spot," he says. "There are moments of complete boredom, and there are moments of sheer panic when the winner of a big race comes in and every journalist surges forward and it's like being at a Who concert."
Moseley is no stranger to the discreet charms of the press corps. In real life, he works as a press secretary to Democrats in the Colorado state Senate. But Colorado political reporters are gentlemen compared with the international sports press.
"Politics isn't as brutal," he says. "In politics, the press is highly controlled. They won't squash you up against a barricade."
Also, political reporters don't stink -- at least not literally.
Actually, the problem isn't a lack of bathing. Given a chance, most reporters will generally bathe nearly as often as civilized people. The odor problem here is a laundry problem. Reporters don't have time to do laundry, and Greek hotels charge 6 euros -- about $7.50 -- to launder a shirt. That kind of money can cut into a reporter's all-important alcoholic beverage budget. Consequently, even reporters who squeeze in a shower tend to cover their clean bodies with dirty clothes. In this weather -- it's been in the 90s and sunny almost every day of the Olympics -- that can get funky.
"It gets pretty ripe," says James Christie, a veteran reporter for the Toronto Globe and Mail. "If you haven't been able to do your laundry, then you're just warming up what's on there already."
Reporters from all countries have been known to throw an elbow or stomp on a foot, so it's hard to handicap who would win the gold for sheer brutality in the mixed zone. Who gets complained about depends on whom you talk to and which event you're at.
On Monday night, it's the Americans who are swarming into the mixed zone, charging the fence like it was the beach at Normandy. American runners have just swept the 400-meter race -- taking first, second and third -- and everybody in the huge American press corps wants to hear what these guys have to say. The pack at the fence is pressed six bodies deep. Consequently, latecomers -- people who actually watched the event in the stadium instead of grabbing a spot in the zone and seeing it on TV -- are shoving toward the fence like fullbacks fighting a goal-line stand.
"Are you going to be able to hear anything?" an American in the back yells to a colleague about three bodies from the fence.
"I don't know," the colleague replies with a shrug. "It depends."
For several minutes, no athletes appear and the only action in the room is reporters squeezing and shoving for position along the fence.
Now here comes a real live Olympian. From five or six bodies back, you can see the top of his head. The huddled masses surge toward him like Vegas women mobbing Tom Jones. Dozens of reporters stretch to hold their tape recorders near his mouth -- a move that puts their armpits right in their rivals' faces.
By now, several athletes have arrived and they appear to be speaking, although you can't hear a word unless you're in the first few rows.
"I heard something about breaking down stereotypes," one reporter announces, "but I couldn't hear it."
After a few minutes, the athletes move on, heading for their urine tests, while the reporters try to piece together what was said. Somebody wrote down the first part of the dialogue, but the rest is illegible. Other folks got various pieces on tape. They huddle, building a complete quotation by consensus, assembling it from shards, like archaeologists re-creating a piece of ancient pottery.
Watching this process, you begin to wonder: Has it always been like this? Did reporters covering Lincoln's Gettysburg Address work this way?