Matthew Moseley
"Swimming the Longest Bridge in the World"
at Ignite Boulder 32 - May, 2017
---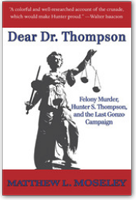 Part of Matt's work is being an author and an extreme open water swimmer. Several years ago he published a book called Dear Dr. Thompson: Felony Murder, Hunter Thompson and the Last Gonzo Campaign. Matt also writes articles and other materials.
Marathon swimming may seem crazy to some, but it is a way of drawing attention to critical water issues. How we treat our water says a lot about who we are as a people. Matt's swim in Canyonlands was part of a series of three world record adventure swims in thirteen months: a lake, an ocean and a river.
In thirteen months, Matt has done three world record adventure swims.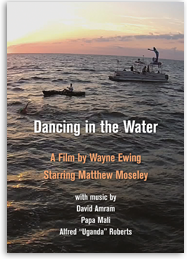 On June 14, 2014, he made the first recorded swim crossing of Lake Pontchartrain of 25 miles in 14 hours and 56 minutes. Matt swam to benefit the Lake Pontchartrain Basin Foundation who worked for 25 years to clean up the lake. Wayne Ewing made a documentary of the swim called "Dancing in the Water".
On May 28, 2015, Matt completed the first recorded swim from the island of Culebra in the Caribbean to Fajardo, Puerto Rico for 24.5 miles in 12 hours and one minute for the Scuba Dogs Society who protect and clean up coral reefs.
On June 28, 2015, Matt was the first person to swim 47.5 miles down the Colorado River through Canyonlands National Park from Moab, Utah to the confluence of the Green River. He swam for American Rivers, the largest river advocacy organization in the world who advocate for open and undammed rivers everywhere.
Moseley was nominated for 2015 Swimming Performance of the Year by the World Open Water Swimming Association. Steve Munatones executive director of WOWSA said, "There is one contemporary swimmer who stands out for his uniquely joyful approach to the sport. Matthew Moseley combines the physical toughness of an endurance athlete with the right brain creativity of an artist. Dancing in the Water combines the human drama of distance swimming with the joy of music and beauty of art, leading to a masterpiece that is greater than the sum of its parts."
A SPECIAL EVENING INSPIRED BY WATER
COMES TO eTOWN
David Amram, Matthew Moseley, and American Rivers bring awareness to America's rivers with a night of music and film
On Thursday, January 28, eTown will be hosting a special evening inspired by water with musical legend David Amram, American Rivers, and open water swimmer Matthew Moseley. The event will include the film the Important Places and Moseley's historic swim through Canyonlands.
"We're proud to host this special evening inspired by water. This unique event fits in perfectly with our commitment to engage our audience around sustainability and fostering a spirit of community," said Nick Forster, Executive/Creative Director of eTown. "We are very excited about this night in particular--not just to entertain people with music from David Amram, but to inspire them to become stewards of our rivers with wild adventures and powerful stories. This night fits perfectly with our vision for eTown Hall."
David Amram started his professional life in music in the early 1950s playing French horn in the legendary jazz bands of Charles Mingus, Dizzy Gillespie and Lionel Hampton. Appointed by Leonard Bernstein as the first Composer in Residence for the New York Philharmonic in 1966, he also composed the scores for the films Pull My Daisy (1959), Splendor In The Grass (1960) and Manchurian Candidate (1962) and has had an impressive career in music spanning over 75 years. He was also featured in the film Dancing in the Waterabout Moseley's historic crossing of Lake Pontchartrain in 2014 and will have a special performance at the event. Mr. Amram will be joined by Hugh Ragin on trumpet, Artie Moore on bass and Tony Black on percussion and other special guests.
Recently, adventure swimmer Matthew Moseley was nominated for Performance of the Year by the World Open Water Swimming Association. The nomination comes after Moseley completed three first-ever swims in the last year and a half: Lake Pontchartrain, Culebra to Puerto Rico and Canyonlands.
What: A special evening inspired by water
Who: David Amram, Matt Moseley and American Rivers
Where: eTown, 1535 Spruce St. Boulder, Colorado
When: Thursday, January 28, 2016 from 7:00 pm to 9:00 pm
For tickets please click here. There are a limited number of VIP tickets that include a special reception with the artist as well as reserved seating and two drink tickets. If you have any questions contact Nick Guthrie at nick.guthrie27@gmail.com.