Q&A with Matt Moseley | A political consultant who lives — and swims — way outside the mainstream
By Dan Njegomir
April 10, 20187
Matt Moseley, finishing an epic crossing of Louisiana's Lake Pontchartrain (Photo courtesy Matt Moseley)
No wonder Matt Moseley has survived and thrived in the political realm; he's accustomed to swimming with sharks. In his case, literally. The Denver-based communications and media consultant — a veteran of the Colorado Capitol as well as the campaign trail — is also a record-setting open-water swimmer who most recently crossed a stretch of the Caribbean without the benefit of a shark cage.
In a world of nose-meets-grindstone political hacks who spend their days and most nights poring over voter rolls and survey spreadsheets, he's a distinct exception. To say the least, Moseley, now a partner and chief strategy officer at Denver communications firm dovetail solutions, has an unconventional resume for someone in the political game. It ranges from welcoming guests as an assistant maître d' at a celebrity chef's New Orleans eatery, to serving as a confidant to the late dean of New Journalism and born-again Coloradan Hunter S. Thompson — en route to writing a book about the cause that had drawn him and Thompson together. (Moseley is currently working on a new book about the front lines of communications, titled, "Ignition: Communication and Controlling Your Environment.") Oh, there also was that time he did research for a famed "futurologist" in Telluride…
READ THE FULL STORY AT: Q&A with Matt Moseley | A political consultant who lives — and swims — way outside the mainstream
---
Matt Moseley's Caribbean Crossing Ends with "The Hardest Swim of My Life"
By Amanda McCracken
July 20, 2017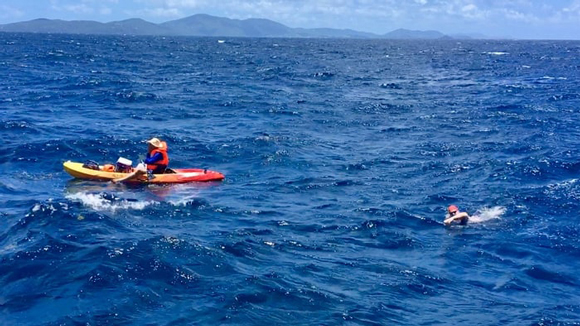 After completing a flawless first leg of his 50-mile Bahama crossing attempt (a four-mile jaunt from St. John's to St. Thomas) Matt Moseley ran into trouble. At 3:40 AM, three hours later than was planned, his support kayak and dinghy pulled away from the catamaran and battled against waves before dropping him on the shore of St. Thomas. Moseley soon left the beach and began what he would become the hardest swim of his life.
READ THE FULL STORY AT: Matt Moseley's Caribbean Crossing Ends with "The Hardest Swim of My Life"
---
Matthew Moseley
"Swimming the Longest Bridge in the World"
at Ignite Boulder 32 - May, 2017
---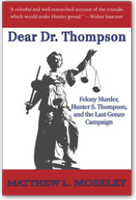 Part of Matt's work is being an author and an extreme open water swimmer. Several years ago he published a book called Dear Dr. Thompson: Felony Murder, Hunter Thompson and the Last Gonzo Campaign. Matt also writes articles and other materials.
Marathon swimming may seem crazy to some, but it is a way of drawing attention to critical water issues. How we treat our water says a lot about who we are as a people. Matt's swim in Canyonlands was part of a series of three world record adventure swims in thirteen months: a lake, an ocean and a river.
In thirteen months, Matt has done three world record adventure swims.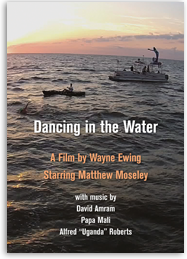 On June 14, 2014, he made the first recorded swim crossing of Lake Pontchartrain of 25 miles in 14 hours and 56 minutes. Matt swam to benefit the Lake Pontchartrain Basin Foundation who worked for 25 years to clean up the lake. Wayne Ewing made a documentary of the swim called "Dancing in the Water".
On May 28, 2015, Matt completed the first recorded swim from the island of Culebra in the Caribbean to Fajardo, Puerto Rico for 24.5 miles in 12 hours and one minute for the Scuba Dogs Society who protect and clean up coral reefs.
On June 28, 2015, Matt was the first person to swim 47.5 miles down the Colorado River through Canyonlands National Park from Moab, Utah to the confluence of the Green River. He swam for American Rivers, the largest river advocacy organization in the world who advocate for open and undammed rivers everywhere.
Moseley was nominated for 2015 Swimming Performance of the Year by the World Open Water Swimming Association. Steve Munatones executive director of WOWSA said, "There is one contemporary swimmer who stands out for his uniquely joyful approach to the sport. Matthew Moseley combines the physical toughness of an endurance athlete with the right brain creativity of an artist. Dancing in the Water combines the human drama of distance swimming with the joy of music and beauty of art, leading to a masterpiece that is greater than the sum of its parts."